If you're a millennial then you definitely remember the early 2000's movie Charlie's Angels starring Drew Barrymore, Lucy Liu, and Cameron Diez. (More importantly, you remember Independent Women by Destiny's child which was released on the movie soundtrack)
We just finished watching the sequel Charlie's Angels: Full Throttle when one thing was made clear. Charlie's Angels IS Power Rangers.
1) There have been multiple "Angels" and Multiple "Rangers"
Many don't know that the Charlie's Angels movies are not a movie adaptation of the TV show, but actually a continuation of the series. The characters in the early 2000s are the next generation of Angels, the same way that there have been multiple versions of Power Rangers. The Angels / Rangers role is one of Legacy. Once you're an angel, you're always an angel but anyone can be recruited so long as you fit the bill.
"Once upon a time, there were three very different little girls who grew up to be three very different women. But they have three things in common: They're brilliant, they're beautiful, and they work for me. My name is Charlie." - Charlie's Angles Intro
Each series (both Power Rangers and Charlie's Angels) revolves around a team of youths recruited and trained by a mentor to "transform" into crime-fighting heroes. They're able to use special powers and pilot immense assault machines, to overcome the periodic antagonists. Teams operate in teams of five or three, with more members joining the team later.
2) They take orders from a somewhat disembodied head.
Charlie and Zordon…need we say more?
3) The action is over the top and ridiculous…but it WORKS
The stunt and wire work in Charlie's Angels is pure spectacle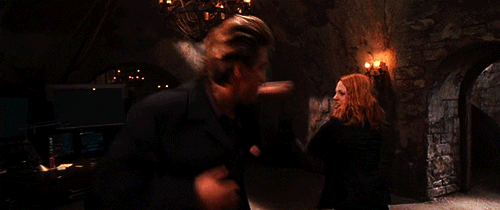 Seriously that scene is one costume change away from being this…
The action is over the top a ridiculous, but that honestly makes it all that more fun. No two fight scenes are the same and it makes the movie so much more enjoyable to watch.
In Conclusion
After watching the 2000's Charlie's Angels movies I couldn't NOT see the comparison to Power Rangers. Both properties manage to be so over the top ridiculous and action-packed without taking away from the story they're respectively telling.
Don't believe me? Both the 2000's movies and a couple of seasons of Power Rangers are currently on Netflix, so give it a watch and let me know your thoughts.

- Ricky Anderson II